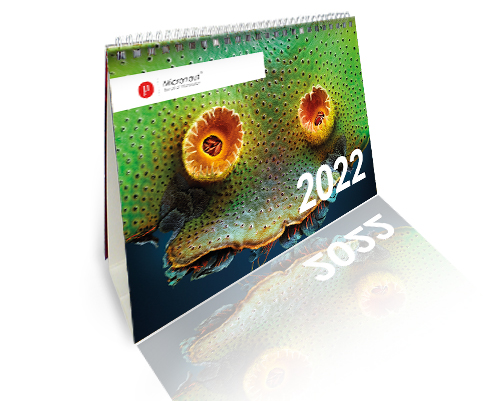 Micronaut proudly presents the new table top calender 2022 with breathtaking new images. Newsletter members pay the reduced price of CHF 29.- instead of CHF 39.-
The new Micronaut calendar features a brain cell growing on the surface of  a microchip. The tiny structures would be invisible without the powerful magnification of a scannin-electron-microscope, as well as portraits of herbs that look almost like surreal landscapes, or the coronavirus.
If you want to become a Micronaut Newsletter member of the Micronaut newsletter prior to your order, please feel free to subscribe now (the subscription is free and can be cancelled any time)!
format: 21.0 x 14.8 cm
pages: 14
sheets: 250g matte paper with one-sided print
CHF 29.- plus shipping (members)
CHF 39.- plus shipping (non-members)
shipping: CHF 4.- (national) / CHF 6.50 (international)