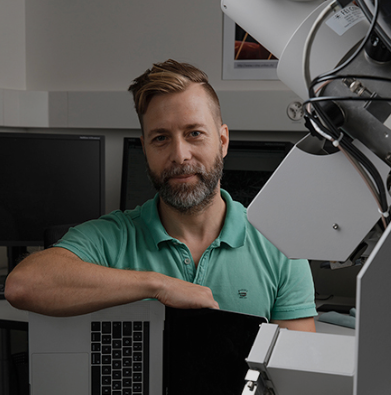 Martin Oeggerli
(born 1974, Solothurn), PhD, is a Swiss molecular biologist who uses his microscope to probe the tiniest enclaves of nature, taking his sharp eye for beauty to the nanoscale. Styling himself as a Micronaut—explorer of invisible worlds—Martin creates incredible microscopic photographs using a combination of scanning electron microscopy (SEM) and post-processing coloration. 

Martin has a background in cancer research and received his PhD at the University Basel, in the field of genetics and molecular biology. Over the past 16 years he has worked as science photographer. His work has been featured in BBC, GEO, Nature, Science, Vogue, and most prominently, National Geographic. In 2012, the scientific journal Nature published an interview-article on Micronaut's career. In addition to two iconic CELL covers in 2018 and 2019, CELL produced two interviews (2018 and 2020), and asked Martin to create his own CELL Picture Show (2018). Most recently, CELL published a comic (2020) about the artist's daily life. In 2022 Martin was invited to give a talk at TEDxBasel, and received the prestigious Lennart Nilsson Award in recognition of his outstanding contributions within the realm of scientific photography.
Martin is a member of ‹The Photo Society› and National Geographic's ‹Photographer's Advisory Board›  which represents the ‹Who is Who› in Photojournalism and Special Photography.
Image: © Pablo Wünsch-Blanco (2019)
LINKS
It is a wonderful tribute to the miraculous process of evolution
I greatly admire your innovative work.
Martin has put scientific photography on a new esthetic level.